Abandoned Wild Babies Animal Rescue
Etsy Angels (EANGTEAM) lending a hand to the Abandoned Wild Babies Animal Rescue (AWBAR)

~~~~~~~~~~~~~~~~~~~~~~~~~~~~~~~~~~~~~~~~~~~~~~~~~~~~~~~~~~~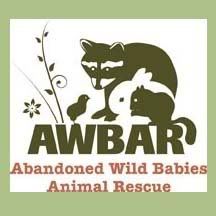 About AWBAR:
AWBAR is located in Lockport, Illinois and is owned and operated by Amanda Smith. She rehabilitates ducks, raccoons, squirrels, opossums, rabbits, small birds and other small animals.
Relying solely on private donations, AWBAR is NOT a non for profit organization nor is AWBAR attached to any other organization. This is out of the pure love for animals.
AWBAR is currently raising money to help offset the expenses of raising and releasing wildlife in 2008. Expenses include: food, shelter, and vet bills. In addition, AWBAR is raising money to help establish not-for-profit status.
You can read more about AWBAR by visiting the following sites:
Official Website:
www.awbar.com
AWBAR Blog:
www.awbar.wordpress.com
As of June 24, 2008, AWBAR has lost 13 baby raccoons to the deadly Parvo virus, please we need your help!
~~~~~~~~~~~~~~~~~~~~~~~~~~~~~~~~~~~~~~~~~~~~~~~~~~~~~~~~~~~
There are several ways you can help:
You can make purchases from the AWBAR Etsy shop.
http://www.awbar.etsy.com
Check out all of the wonderful handmade items that have been donated to the Shop! Buy a Ringer Pin!
100% proceeds go to helping abandoned wild baby animals.
Direct donations can be made to AWBAR's PayPal account
(abandonedwildbabiesrescue@hotmail.com)
Purchases from the Etsy Angels Street Team Members
*See below
~~~~~~~~~~~~~~~~~~~~~~~~~~~~~~~~~~~~~~~~~~~~~~~~~~~~~~~~~~~
During the month of August, the Etsy Angels Street Team is raising money to help AWBAR.
Members are either donating items to the AWBAR Shop where 100% proceeds go to the AWBAR or donating a percentage of their August sales.
Current Angels and Angel Friends donating portions of August sales to the fur babies:
Help us help the baby animals!
Visit us at our
Promo thread
on Etsy
You can search AWBAR and EANGTEAM for items for sale on
Etsy
. Each purchase helps the baby animals.
This lovely photo and print of an original painting are both available from the
AWBAR Etsy Shop
!
Thank you so much!
~~~~~~~~~~~~~~~~~~~~~~~~~~~~~~~~~~~~~~~~~~~~~~~~~~~~~~~~~~~
The Etsy Angels Team formed after the hard work and dedication of several people who came together and raised money for two little boys that had lost their mom in a fatal car accident in December 2007.
Moderator- Wildlifer78